CLEAROGEN

The best in the world at the best

price!
Revolutionary Fast Acting Acne Medication and Treatment
Control and Treat the Root Causes
Clear Existing Skin & Prevent and Treat Acne Breakouts
Restores Your Skin's Natural Beauty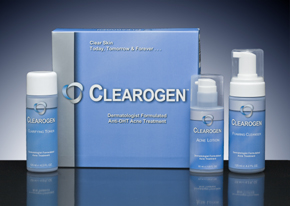 PRICES : Clearogen Complete Acne Treatment Set 2 months US$75; 2 months US$140. Clearogen Acne Lotion 1 bottle of 55ml US$32; 2 bottles of 55ml US$ 59. Clearogen Clarifyng Toner 1 bottle ok 120ml US$28; 2 bottles da 120ml US$ 52. Clearogen Foaming Cleanser 1 bottle of 125ml US$ 28; 2 bottles of 125ml US$52
Clearogen is a revolutionary new treatment for acne. Formulated by Board Certified Dermatologist Alex Khadavi MD, Clearogen will help control and treat acne by combining scientifically proven natural ingredients with an FDA approved, easy 3 step treatment to attack and both the root causes of acne as well as its symptoms.

Clearogen attacks DHT (Dihydro Testosterone) the hormonal byproduct that initiates the formation of Acne. DHT stimulates the oil glands in the skin to produce excessive oil resulting in obstruction, infection, and inflammation of the skin pore that are the prime symptoms of this skin condition. Clearogen medication is a simple 3-step treatment for acne control for adults and teenagers, used once daily for striking results.
CLEAROGEN Acne Treatment is the first product to combine both prescription grade ingredients and scientifically proven natural botanicals to clear acne at the first stage of formation. This easy 3 step treatment for acne attacks the root cause of acne while rejuvenating the skin.

Clearogen is developed by Board Certified Dermatologists Dr. Alex Khadavi after years of research and development. As a result, Clearogen uses only the safest and most effective ingredients available and is meticulously tested to ensure optimum results.

Clearogen is the only over-the-counter topical product to treat acnethat works at the root of the problem. It not only treats existing acne and prevents new lesions, but it stops the first phase of development. This is accomplished by preventing excessive oil production by the oil glands to prevent clogging of the pore and bacteria growth.
How Clearogen Works:

1. Clearogen Inhibits the conversion of Testosterone to DHT and reduces excessive oil production.

2. Clearogen blocks the Androgen Receptors and prevents stimulation of oil glands.

3. Clearogen opens the pores, kills the bacteria and reduces the inflammation, allowing healing and skin renewal for clear and vibrant skin.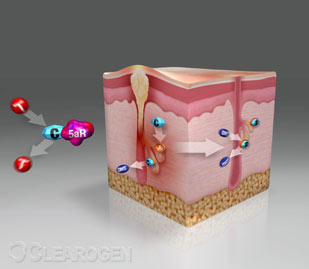 Foaming Cleanser
Healthy skin starts with clean skin. Clearogen Foaming Skin Cleanser gently removes dirt, excess oil, make-up and bacteria that cause acne. Botanical extracts revitalize the skin while preventing breakouts

● Gently cleanses and maintains optimal skin moisture balance
● Helps prevent and treat acne
● For all skin types

Directions:
Use once daily. Thoroughly lather foam over wet skin, rinse well, and pat dry. Avoid eye area.

Ingredients:
Salicylic acid 2%. Deionized Water· Ammonium Lauryl Sulfate · Butylene Glycol · Di-PPG-2-Myreth-10 Adipate.· Polysorbate 20. Triethanolamine · Hydrolyzed Wheat Protein · Hydrolyzed Wheat Starch · Aloe (Aloe arbadensis ) Vera Gel · Rosemary Extract · Phenoxyethanol· Lavender E.O.
Growth suppression of hamster flank organs by topical application of gamma-linolenic and other fatty acid inhibitors of 5alpha-reductase