TRICOMIN RESTRUCTURING CONDITIONER

The best in the world at the best

price!

Tricomin Restructuring Conditioner 237ml US$29; 3 x 237ml US$87, 6 x 237ml US$174, 12 x 237ml US$348

Tricomin Revitalizing Shampoo 237ml US$25; 2 x 237ml US$50, 3 x 237ml US$75, 6 x 237ml US$150, 12 x 237ml US$300

Tricomin Conditioning Shampoo 237ml US$31; 3 x 237ml US$91 , 6 x 237ml US$179, 12 x 237ml US$355

Tricopack Value Pack 1 (shampoo, conditioner, follicle spray) US$122

Tricopack Value Pack 2 (shampoo, follicle spray) US$96
It is a ProCyte product.
It is composed of 237 ml (8 fl.oz). Here are some components on the wrapping:
purified water, gliceril stereate, PEG-100 stereate, stearamidopropil dimetilamine, cetyl alcohol, propylen glycol, stearyl alcohol, dimethicotone, Triamino copper nutritional complex (alanine/histidine/lysine polypeptide copper HCL), hydroxypropycellulose, pantenol, aloe vera gel, soydimonium idrossipropil hydrolyzed wheat protein del, hydrolyxed keratin, citric acid, metilparaben, disodium EDTA, propilparaben, peppermint oil, tocopheryl acetate, cholecalciferol, retinyl palmitate, vegetable oil, etc.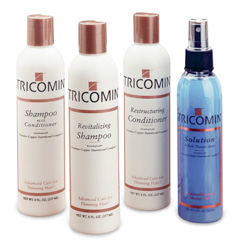 It helps to restore the natural hair proteins and the mineral equilibrium, the structure, the shine and the body of hair.
The nourishing formulation stimulates, strengthens and conditions hair and contains the Triamino Copper Nutritional Complex. It is used both with the shampoo Tricomin Revitalizing shampoo, allowing to act 3-5 min.
After Tricomin Solution Follicle Therapy Spray can be applied.