TOPPIK Hair Building Fibers

The best in the world at the best

price!

Prices

10.3g US$ 21.95; 3x10.3g US$62.85

25g US$ 43.95; 3x25g US$ 128.85

55g US$ 76.95; 3x50g US$ 224.85
Toppik is an hairloss concealer.

It is a Spencer Forrest product. It is a really interesting product.
It is not a coloring mask.
It is composed by keratin micro fibers which integrate the remained hair without being distinguishable.
It strong-up itself with the existing hair in notable way, probably with the principle of the static electricity, so much that the fibers cannot be removed by a normal rain, wind.
The Spencer Forrest product can be immediately removed by warm water and shampoo.
It is also excellent to give body to the hair vellus and to cover grey hair or white hair.
It is totally compatible with the normal topical treatments, for example, the minoxidil.
In the morning, after the minoxidil, it is possible to apply Toppik, while in the evening it is possible to apply minoxidil over toppik.
It is available in six tonality of color. It doesn't stain. The white color is for grey hair or white hair.

The manufacturer describes the product as an instant hair transplant, a excellent pruduct for hide baldness.
The result is amazing!
It seems that haircount is increased instantly!
I have also tried the product at seashore: I applied it before going tothe beach, then the FiberHold spray, I have not bathed the hair but a wave bounced over the rock-cliffs and washed me: the Toppik resisted at all!
A product of quality: it works really well.
It is not necessary to use it every day, for a psychological matter, but rather use it sporadically, treating the baldness contemporarily or sometimes retouch hair covering spaced out zones.
It is available in three types of wrappings, 10g, 25g and 55g.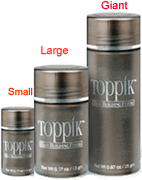 The Spencer Forrest product is in dry dust, and it is distributable through 167 microholes through the top. It is advisable to hold the product away of the damp.
The product is guaranteed, so if you are not satisfied, you will be refunded, returning the not completely empty wrapping.

The 30 second "Hair Transplant", Hair Building Fibers eliminate the appearance of baldness and thinning hair, totally undetectable. Also for grey hair or white hair.
Great for women too !
COLOR CHART
INGREDIENTS : Keratin, Ammonium Chloride, Silica, DMDM Hydantion, Iodopropynyl Butylcarbamate. May contain: FD&C Yellow #6, FD&C Red #40, FD&C Yellow #5, D&C Red #22, D&C Red #33, FD&C Blue #1, D&C Green #5, FD&C Green #3, D&C Green #6, D&C Orange #4.
30-SECOND TRANSFORMATION
Apply Toppik simply holding the custom container over your thinning area, and shake it gently. In few seconds, thousands of tiny color matched hair fibers will intertwine with your own hair. Charged with static electricity, they bond so securely that they will stay on your head all the day, in the strongest wind or hardest rain.

You'll be amazed how these Hair Building Fibers transform your thin, colorless "vellus" hairs. Suddenly, this "peach fuzz" becomes thick and full under your eyes. In fact, your thinnest, limpest strands of hair will become so thick that the thinnest areas look full again. This entire transformation takes place in 30 seconds or less.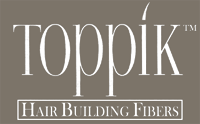 NOT A COVER-UP

Toppik does not simply create the illusion of thicker hair. By combining your own thinning hair with the Toppik fibers, you will actually see a thicker, fuller head of hair. You'll even be able to style your hair in a younger looking way.

Toppik comes in an elegant, discrete molded container specially designed to dispense the fibers through 167 digitally optimized openings. And Toppik is so easy to apply that after a while you won't even need to look in a mirror when you put it on.

TOTALLY UNDETECTABLE

The strongest wind or driving rain will not effect Toppik and it cannot possibly smear or stain. Toppik is totally undetectable, even from as close as two inches. In fact, these keratin hair fibers merge with your hair so perfectly that a trained eye will not be able to detect them. Toppik stays securely in place giving natural-looking thickness and fullness until the next time you shampoo. But Toppik removes easily with any shampoo. It is also totally compatible with Minoxidil. Toppik is great for men and women.

A SAFE, EFFECTIVE OPTION

Speaking of medical treatments, Toppik is recommended by doctors because it is completely safe and works amazingly well with hair transplants. Starting right after surgery, Toppik will make any scabs or scars disappear. It will also eliminate the sight of any temporary post-operative thinning. And if you are still weighing your surgical options, Toppik will give you more time to make the right choice.

If you are concerned about visible hair loss, Toppik will change the way you feel every time you look in the mirror.
How to use Toppik?

Towel or blow dry your hair, or allow it to air dry completely. Used only on dry hair.

Hold the container in one hand 3-6 inches above the area to be thickened. For targeting small spots, you may bring the container right to the area.

Shake Toppik liberally, over the desired areas, Don't worry about any fibers falling into surrounding hair, because they will simply disappear.

If you can not see your back-of-the-head area in the mirror during application, use your another hand to guide you to the areas to be enhanced. If necessary, apply Toppik with your head down, and look in the mirror afterwards. Fill in further as needed. You will soon learn to apply Toppik effectively with only an occasional glance at the mirror or without mirror at all.

In frontal areas, spread your thumb and forefinger and place your hand on top of the forehead below the hairline to keep stray fibers from falling to forehead and eyes.

Pat your hair will help disperse fibers throughout the area. Use an open, plastic, non-bristle brush to style your hair as you wish. You will notice that your hair is much easier to style with the added bulk of the Toppik fibers.

If coverage is not complete, add more Toppik and pat or brush until your hair looks thick and full.

Close container and store away from moisture when not in use.

Toppik FiberHold Spray

It is a support product for Toppik, purchasable apart. It has been studied to increase the bond between the fibers of Toppik and the hair, making the product most resistant to the external strengths. It is present also a protective screen from the UBV and UVA rays! Excellent on the beach. It has pH equal to 5.5. It is used after the application. It has a pleasant perfume.

Here are some components : SF alcool 40, water, ethyl of PVM/MA copolymer, other polymer, panthenol, PEG-60 almond glycerides, sunscreen UVB/UVA. A wrapping is of 59 ml (2 fl. oz) of product.
IMPROVE THE NATURAL LOOK OF TOPPIK WITH THE TOPPIK SPRAY MAXIMIZER
WHAT IS THE TOPPIK SPRAY MAXIMIZER

The Toppik Spray Maximizer will improve the results you have with Toppik from the first application. This precision instrument allows you to spray Toppik on your head. By using this appliance, you will get a more natural look...the fibers will disperse more evenly and will be directed more precisely. Because of this precision, you will use less Toppik.






USE THE TOPPIK SPRAY MAXIMIZER TO TREAT SPECIFIC AREAS

To thicken precise areas, try to insert the nozzle into your hair and spray gently. This will disperse the fibers giving you a fuller and more natural look.



USE THE TOPPIK SPRAY MAXIMIZER TO FILL OUT YOUR FRONT HAIRLINE

The Maximizer is perfect to fill out your front hairline. For best results, use it with the Toppik Hairline Optimizer, a laser generated template allows a perfect natural hairline that replicates the growth pattern of your own hair.


Instructions :

Take a bottle of Toppik Hair Building Fibers in either Regular Size (10.3 gm.) or Large Size (25 gm.) and remove the cap. Remove the sifter from the bottle by gently turning and lifting it. Screw the Toppik Spray Maximizer onto the bottle.

By squeezing the ball, you will cause a burst of Toppik, perfectly dispersed, into your hair. You will find that the fibers distribute more evenly and that you have more control over where the fibers are placed in your hair.


To thicken precise areas, try inserting the nozzle into your hair and spray gently.


The Maximizer is perfect for filling out your front hairline. For best results, use it with the Toppik Hairline Optimizer, a laser generated template that allows for a perfectly natural hairline that replicates the growth pattern of your own hair.

Toppik Hair Building Fibers not included.
Maximizer fits the Regular (10.3 gm) and Large (25gm ) size bottles only.
Toppik Hairline Optimizer
What is it?

While Toppik is the top-selling product for thickening thinning hair, it can be difficult to achieve a natural looking front hairline. That's why we created the new Toppik Hairline Optimizer. The Optimizer's patented template causes the Toppik fibers to fall in an uneven pattern, replicating the most natural hairline. You'll see a softer, natural look from the first time you use it.

How to use

Best of all, the Hairline Optimizer is easy to use! Simply apply Toppik as you normally would, but place the Optimizer up into your front hairline. The Optimizer's computer-designed pattern simulates your hairline, guaranteeing a perfect result every time.
Read SF 680 thick hair brush too.

Customer Comments: "This is the most amazing product I have ever used. I feel like someone who can walk by themselves after having been in a wheelchair for the past 10 years. Thank you so much for giving me my life back". --- A. Edwards, North Carolina.

"Please don't ever stop making these products! My husband looks 10 years younger, and he thinks I'm a genius for "discovering" Toppik (on a TV commercial)!!! I am totally amazed at how naturally full this product makes my husband's thinning hair! I repeat, TOTALLY natural! Thank you a thousand times!" - Lori from Wisconsin.

"The sample I received was great! The difference is fantastic. I am 65, and my thinning area is in the front. Since I am a woman, and short everyone could see my skull. Thanks for a wonderful product." - Sonia Hooper, Stafford, TX.

I love this product thanks so much for inventing this product.. Never stop making it.. I found it because a friend of mine found it in Chicago.... is it possible to get a little empty size container to use for travel size.. thanks so much.. J.P.

Toppik Enhances Patient Experience

Dr. Craig L. Ziering, Hair Transplant Surgeon, New York, NY

For the past year we have offered Toppik Hair Building Fibers to our patients to observe the product's effectiveness as a cosmetic cover-up and its value as part of the patient's overall treatment.

Toppik is a shake-on product manufactured by Spencer Forrest, Inc., a 20-year old company who also produces a similar product, Couvre. Spencer Forrest creates products for daily use that thicken the hair and conceal any signs of scalp show-through. These products are ideal for patients immediately after transplant surgery to conceal signs of surgery or any post-operative thinning until the grafts begin to grow. They are also used to conceal hair loss for patients who are postponing surgery but want a temporary solution. They can be used in conjunction with Minoxidil and PropeciaŽ to show immediate results for patients who hope to ultimately experience an increase in hair shaft diameter and regrowth. They can also be used to supplement density in patients with very little donor hair.

A jar of Toppik Fibers contains keratin protein fibers which come in eight different colors to match most shades of hair. The fibers cling to existing hair including the finest vellus hair, by virtue of a static electrical charge that causes a magnet-like attraction to human hair. When shaken into a thinning area, the fibers are usually indistinguishable from real hair in appropriate candidates, even to the trained eye. While they are resistantant to wind, rain and perspiration, Toppik Fibers remove easily with any shampoo.

The product is remarkably effective in achieving its stated goal. In most cases, patients' thinning hair immediately looks far thicker. This has been true for both men and women with a wide range of hair conditions. Post-operatively, we recommended that it not be used until crusts have formed, and may subsequently be safely applied. One of its greatest virtues is in masking any post-operative thinning and in effectively concealing any crusts or other signs of the procedure immediately post-operative.

I find it most beneficial in men and women with diffuse thinning. It is tremendously useful for patients to use during the waiting and early growth phase post-operatively (2 weeks - 6 months for men; 2 weeks - 8 months for women.)

Because it provides immediate gratification, it is remarkable to watch to morale transformation for patients severely troubled and discouraged by their loss, and yet limited in donor hair or money, or who are approaching their restoration with small surgical sessions over an extended period of time.

We have observed no negative responses to Toppik (no irritation, infection, reaction, etc.) and a very high level of satisfaction. We have also found this type of product to be an excellent means of maintaining contact with prospective hair transplant patients who are not quite ready to commit to surgery. In short, Toppik is a remarkably safe and effective way for patients to conceal any signs of hair loss and thinning.

Dr. Ziering has no financial interest in Spencer Forrest products.

"Toppik, the US$19.95 miracle is used by actors from just about every major movie and TV show."

The 'Bible' of the Entertainment Industry

Entertainment Magazine

"That's honest to goodness hair. I've got to admit it - it does look like the real thing. It doesn't come off. It's a miracle."
KFMB-TV, News 8
San Diego

"It really looks like my hair grew back."
NBC-30 News
Hartford

"Replace all that lost hair - brush away insecurities - awesome."
KWTV News
Oklahoma City

"You can look years younger in less than a minute. Amazing - and all for about US$20. It really seemed like more hair was being created as the bald spots just disappeared. Toppik really does live up to its ads."
KYW-3 Eyewitness News

"We put it to the test. You can have a full look on top - Say goodbye forever to bad hair days - It's one of Hollywood's best kept secrets."
Fox-TV News
Los Angeles

"It's truly amazing!"
CourtTV

"It does work and I was impressed. It's great."
KXTV News
Sacramento

"It's a miracle! After 20 years of mourning the loss of so much hair, it suddenly looks and and feels like it's back. I still cannot believe what happens when I use Toppik. It is almost like my hair is multiplying before my eyes...like the instant transplant you refer to. Nothing else works half as well and I have tried everything....Thank you."
Gary Luckman; Attleboro, Mass

"I've been using COUVRé Masking Lotion by itself for years with great results. So I decided to try one of your systems with its combination of products, to see if I could make my thinning hair look even thicker. I knew you had a 30-day money back guarantee on all your products, so I had nothing to lose. Needless to say, the results were excellent. My hair actually appeared to be much thicker and fuller as you promised. I especially liked using the Hair Expander and Thickening Shampoo together. I could see the results immediately after using them. Thank you."
Jeff Teitelbaum; Portland, OR

"One year ago I decided to take one last major effort to do something about my hair loss. I chose to use the only proven method of growing hair, Minoxidil, along with the HR-29 Nutrient Solution and Hair Vitamins. I applied the Minoxidil and HR-29 solutions, took the vitamins twice each day without fail, and waited nervously to see if there was any new growth. After 3 months I was almost ready to give up, but by the middle of that month I began to see some definite improvement. Slowly but steadily my hair began to fill in.

By the end of the seventh month I stopped using COUVRé Masking Lotion. For the last 4 years it had been a lifesaver, but I really didn't need it any more. It has been 13 months now, and I don't seem to be gaining much more hair, but I am not losing any either. I am back to about 90% of my original hair and that is fine with me. I will stay on this program because I know it works.

Over the years your products have gotten me through one of my biggest personal problems. You have delivered everything you promised at a fair price. I cannot thank you enough."
Al McPeak; Chicago, IL

"My order of Toppik arrived yesterday. I was absolutely astonished at the results. Amazing is not strong enough word for how I changed. I am balding extensively on the crown area and thinning quite a bit in the front and top. After applying your product I had a full head of hair to anyone's critical eye.

In January I was about to get a very expensive procedure. Needless to say, I can put that money to much better use and now feel confident I have a great solution to my shyness about my balding head.

Thank you so much for your products. I am a 49-year-old businessman and have spent 20 of those years worrying about my hair. You have solved my problem.
Les Kelvin; Columbus, OH

"I am a middle-aged woman and I have recommended Toppik to everybody I know. It not only enlarges each hair, but it promotes the natural waves and body of my hair. My hair looks just as it did when I was younger. It even covers my roots, and hides my part....It's just great."
Lois Ballard; Cleveland, Ohio

"I just wanted to tell you how happy I am with the Toppik product. I have had scalp surgery that took out a good portion of my hair. I would spend a lot of time trying to cover the bald spots. When using the Toppik, one sprinkle and wow, a full head of hair. I thought after seeing your advertisement, this can't be for real, another gimmick. After using Toppik for the first time, what a difference. Anyway, just wanted you to know." Regards, Steve G

"I've been using this product and i really like it.. i had a hair transplant 1 year ago and it didn't work.. so i better trust toppik." W. Guerrero

"I have been using your product for quite some time and could not be without it. A wonderful product..." Patty W

"I have to admit that initially was very skeptical but after I tried your hair product I was vary impress. It gave me more self-confidence and I was not self-conscious when I was out in public. If you need a candidate for commercials or advertisement I'm your man." A. Gonzalez.

"I just bought the regular size used it 3x's and will never want to be without it !!! I do not have a hair loss problem I just want the top of my hair to appear thicker at the part! Poof done !MAGIC Thanks!!!" ANGIE from New York.

"I love this product!!" Jo from Virginia Beach, VA

"TOPPIK IS AN ABSOLUTELY FANTASTIC PRODUCT.... THANK-YOU SO VERY MUCH. I FEEL GREAT.....AGAIN!!!" Dennis from Fair Lawn, NJ.

"Have used this product for some time, really covers the thinning spot!" Rupert B from Santa Rosa, California.