REMOX, PROMOX, MINOXIDIL FOAM

Real Medicine for Real Hair !

Remox, the powerful and economical hair re-growth formula that has helped thousands grow full, luxurious hair! Announcing a New and Exciting Development in Line of Re-Mox Sprays Remox IV Spray 5% with DMI/Foam and the new product Promox 15%!

You have to consult your doctor before the beginning of any treatment program

Remox and Promox are products of Dr. Klein, who is a pioneer in the field of hair growth research.

Dr. Klein is an M.D. and psychiatrist who has devoted his practice to helping men and women stop hair loss, re-grow their natural hair and regain their youthful looks and self-esteem. He is the author of numerous articles and studies and is a recognized leader in developing solutions for hair loss. Using Remox, Promox and other powerful tools he will develop a plan specifically for YOU and will be there to support you every step of the way.

Dr. Klein in his continuing efforts to improve his hair regrowth formulations has recently added Biotinoyl Tripeptide to all his hair Formulas.

Biotinoyl Tripeptide is a natural herbal compound also known by the trade name (Procapil). This compound is topical with no side effects and help fight against hair thinning, alopecia and DHT blockage.

Biotinoyl Tripeptide has active compounds that improve and help anchor the hair follicle more firmly in the scalp. It also promotes cell communication and increases metabolism in the follicles thus producing an anti-aging effect within the hair follicle. In testing, it has been shown that biotinoyl tripeptide dramatically thickens cells in the hair bulb, (the only live part of the hair), thus anchoring the hair more firmly in the follicle and preventing premature loss. Biotinoly Tripeptide also lessens the harmful effect of DHT thereby increasing the blood circulation to the hair follicle and rejuvenating it.

The Remox system, designed to expedite the natural hair growth process, consists of a special formulated spray (Re-Mox 1) and lotion (Re-Mox II, Re-Mox III and Remox IV).

The spray (Remox I), comprised of 5% Minoxidil and .025% Retin-A ® (marchio registrato), is used like a perfectly absorbed cosmetic hairspray and disappears into the hair within 10 seconds. Unlike traditional sprays, it is a fine mist, which is both colorless and odorless.

The lotion (Remox II), a combination of 12.5% Minoxidil, 0.1% Hydrocortisone, and .025% Retin-A ® (marchio registrato) is applied to the scalp nightly. Remox II has the highest concentration of Minoxidil available by prescription only, which is key for optimal results.

It is available also Minoxidil Foam. After many months of research and 6 months of a triple blind study we are proud to announce the availability of Promox (with topical finasteride). Promox which proves to be 75% effective on both the frontal and vertex areas within a six month period.

The formulations are also available WITHOUT tretinoin (you please check the Online Order Form)
HAIR RESTORATION PHYSICIAN ANNOUNCES CLINICALLY PROVEN FORMULA YIELDING UP TO 75% IMPROVEMENT.
CLICK HERE FOR PROMOX RESEARCH STUDY
All patients or customers must agree to the following: I agree to provide my complete medical history to Medical doctor provided by Regenere and have a private consultation prior to beginning treatment. I agree to contact the Doctor to discuss my diagnosis and medical history as submitted by my physician. I agree to maintain open communication with the doctor regarding my hair loss and any medical issues I may have. I agree to contact the doctor throughout my treatment with any questions or concerns. I understand that there is no one treatment that works for every person and there is no guarantee what kind of results I may expect from the treatment. I understand no products will be dispensed, processed or shipped without a proper consultation with the doctor provided by Regenere Products Inc. I understand that my order may be cancelled and refunded if after the consultation if the doctor considers that I am not a good candidate for the treatment. If you are not satisfied in any way with this product, you will receive your money back (25% restocking fee may apply).
At present there are only two products approved by the FDA for hair growth.
Promox combines these two in a topical product that blocks 80 to 90% of DHT with minimal side effects.
The results of our study are very positive and confirm the hypothesis that the topical solution of minoxidil and finasteride is more effective than either one alone.
Promox is for use by men only or post menopausal woman. Pregnant or possible pregnant women should not use this product or come in contact with the medication until totally absorbed into the scalp.


Re-Mox will help you:
Regrow More Hair
Regrow Healthier Hair
Get Faster Results
Save Money Compared to Other Brands
Regrowth of Hair All Over Scalp, Including Frontal Hairline.
They are also available the Remox III and Remox IV.
The versions Spray are also available with DMI rather than propylene glycol.
The new formulation contains Dimethyl Isorbide (DMI) as a solvent and penetrant, therefore allowing the Re-Mox sprays to be virtually free of Propylene Glycol.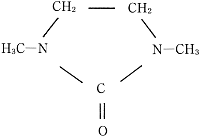 The new Re-Mox formula with DMI will not cause scalp irritation or dryness.
The DMI increases absorption of all active ingredients through the scalp and into the hair follicle.
DMI is a solvent compound that has been extensively researched and has been "Shown to enhance penetration of the active ingredients through the upper level scalp epidermis".
"It does not however, promote penetration of the ingredients into the bloodstream, therefore DMI produces a much lower incidence of skin irritation."
The new formulation with DMI and tretinoin increases the penetration of the active ingredients making Re-Mox Sprays Even more effective than they were before.
Therefore, Dr. Klein has to successfully reduce the Minoxidil concentration to 3% while maintaining equal or better results than achieved by 5% Minoxidil Sprays.
The new formula with DMI allows a finer, lighter quality cosmetic spray which is totally non-irritating.
For more information, please visit: http://www.mitsuichemicals.com/dmi.htm
It is available also a good solution of minoxidil 5%.
Please, read also the article about Revivogen, Hairloss (androgenetic alopecia) therapy and Top 5 hairloss treatments.
Re-Mox II, Re-Mox III and Re-Mox IV are three super effective hair re-growth medications. These are a fully absorbed and water soluble lotion containing 12.5-15% Minoxidil, 0.025 % Tretinoin, 0.1 % Hydrocortisone and 0.25-1.25% Progesterone.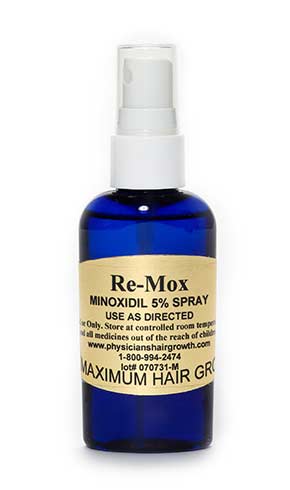 Because of the high concentration of Minoxidil in our lotion, to use one time a day application to those areas of the scalp that are most resistant to hair re-growth such as frontal and temporal areas.
In order to achieve maximum re-growth, Re-Mox II (or Re-Mox III and Re-Mox IV) must be used in conjunction with the our original Re-Mox formula. Extensive studies have shown that this combination produces the most abundant and full hair re-growth possible.
As you probably are aware, many doctors advise their hair loss patients to use a topical combination of minoxidil (the active ingredient in Rogaine) and tretinoin (also known as Retin-A ® (marchio registrato). Numerous studies done over the last 10-15 years show that Retin-A ® (marchio registrato) alone can help promote hair growth to a minor degree. Furthermore, since we know tretinoin increases percutaneous absorption. It is widely accepted that combining tretinoin with minoxidil will allow for enhanced absorption of minoxidil and better results.
By using a combination of minoxidil and tretinoin, you will get significantly better results than using minoxidil alone. We know of several other companies that distribute minoxidil and tretinoin to their patients, so you may be wondering why you should order Re-Mox.
Other sources prescribe the tretinoin to be applied separately from the minoxidil and require you to apply the tretinoin directly to the scalp. As you might imagine, this often causes severe irritation to your scalp. When your scalp is scaling, itching, and flaking, you will not grow healthy hair.
They all know that the tretinoin will give you better results if combined in formulation with the minoxidil. However, the production of this combination is more expensive than selling the separate ingredients. As a result, most companies market the treatments separately to maintain profit margins. Also, as any pharmacist can tell you, it is very difficult to combine these 2 medications in a stable liquid, spray-on formula. The chemists of Remox have devised a way to stabilize this compound for ease of application and maximum hair growth.
Some companies sell a single combination formula similar to Remox. The medication is in liquid form and can be easily applied by spraying it on the hair. The problem? The other companies charge you up to $70.00 per bottle and use a 2% minoxidil solution! Re-Mox costs significantly less.
Re-mox III is a combination of Minoxidil, Retin- A and Azelaic Acid, both in the spray and lotion formula. Azelaic Acid is a natural acid found in certain cereals, rye and animal products. It is FDA approved for the treatment of acne. Azelaic Acid is a very weak acid (weaker then vinegar). However, scientific research * have shown that even very low concentrations Azelaic Acid inhibit 90% of DHT formation in vitro (see synopsis) The mechanism of action, is 90% inhibition of 5 alpha reductase activity, 5-AR is the enzyme that converts human serum to testosterone, to DHT, which is the compound thought to be responsible for damaging hair follicles and an important factor in hair loss.
Because Re-Mox III blocks 90% of scalp DHT and is also an excellent vasodilator at the hair follicle level, we feel that this will produce the maximum hair growth possible in any situation.
In continuing Dr. Klein's passion for hair re-growth formulations that excel far beyond the competition, we are proud to announce the creation of Re-Mox IV. Re-Mox IV is a combination of Minoxidil, Tretinoin, Azelaic Acid, and Progesterone. Re-Mox IV available in both the 5% Minoxidil spray and 15% Minoxidil lotion formula. Progesterone is a hormone naturally produced by both men and women. During the aging process, When the level of progesterone falls in men and women, the conversion of testosterone into DHT increases dramatically. Progesterone is the chief inhibitor of an enzyme called 5-alpha reductase. Progesterone inhibits the body from converting testosterone to di-hydrotestosterone (DHT) by binding to 5 alpha reductase; 5-AR is the enzyme that converts human serum to testosterone, then into DHT, which is the compound thought to be responsible for damaging hair follicles and an important factor in hair loss.

Because Re-Mox IV has both Azelaic Acid and Progesterone it can block in excess of 95% of scalp DHT and is also an excellent vasodilator at the hair follicle level, maximum hair growth will result. We once again are proud to introduce a new breakthrough medication to all of our new and existing hair patients!
NOTE: Patients can replace Re-Mox I, II, and III with Re-Mox IV for better results if not satisfied with the results already obtained with Re-Mox I, Re-Mox II, or Re-Mox III.

5% REMOX - Spironolactone
After extensive research we are finally ready to release our 5% Remox -Spironolactone lotion/gel.
Spironolactone is a potent androgen inhibitor when applied topically (1). It is safe easy to easy and without any side affects. Numerous studies have shown that Spironolactone is effective in blocking DHT when applied topically (2). It blocks DHT by occupying the DHT receptors on the hair follicle thereby preventing DHT from binding on and producing its negative affects. Our research has shown that when our Re-Mox solutions are used in combination with Spironolactone the effects are synergistic. The hair re-growth results are better than with either medication alone. We have found that there is an 80 to 90% success rate in hair re-growth with the combination of Re-Mox and Spironolactone. It is even better than the combination of Re-Mox and topical finasteride.
Spironolactone is applied separately after Re-Mox. First apply the Re-Mox formula wait several minutes until dry and absorbed and then apply a small amount of Spironolactone lotion on top of the Re-Mox with your finger tips.
The best hair re-growth results are attained by using this combination twice a day—at night before retiring and in the morning.
REMOX VOLUMIZING SHAMPOO

Contains: water, ammonium lauryl sulfate, Cocamidoropyl betaine, quaernium-79 collagen, lauramide DEA, glycerin, panthenol, aloe vera, ceramidea2,fragrance, hydantoin, fdc color

INSTRUCTIONS NEED TO BE READ BEFORE STARTING TREATMENT


Spray:
1. Shake bottle


2. Apply to dry hair
3. Apply 4 times daily (Morning, Noon, Evening and at bedtime)
4. Apply 6-10 sprays per application directly to the hair from a distance of 8-10 inches.


DO NOT RUB OR MASSAGE IN


Lotion:
1) Squeeze about the size of a dime or quarter (depending on area to be applied) in palm of hand.


2) Apply once or twice daily (according to your instructions from Dr. Klein)
3) Rub gently into scalp area where you are treating the hair loss. Apply to dry scalp.


When using a combination of spray and lotion:
1) Use according to the above directions.
2) Alternate lotion and spray.


For example: Use the lotion in the morning, the spray at lunchtime and at dinner time and the lotion at night.



When using Remox Spirolactone Lotion:
Rub in lotion 30 minutes before using any other of our products either 1 or 2 times daily.

FAQ

Is Re-Mox and Promox Safe?

The treatments are totally safe as they are topical and non-systemic. Remox is easy to apply, non-irritating and makes for painless hair re-growth.

How soon will I notice a difference?

Patients can expect hair loss to stop within six to eight weeks. And new hair growth will begin within eight to twelve weeks.

Can I use Propecia?

The combination of Propecia and Re-Mox (where indicated) generates improvement in over 95% of patients. Results obtained from the Remox formula are far superior to internal medications because internal medications may only focus on one part of the hair re-growth process. Upon completion of the Remox treatment, there are no complications, unlike with other treatments, in which the hair can fall out again within a week.

What about Minoxidil or Retin-A ® ?

Both the Retin-A ® (marchio registrato) and Minoxidil ingredients in Remox have been used separately by dermatologists for over 15 years, but never used synergistically as a hair treatment. It is not advised for patients to try and self treat hair loss with either of these components. Retin-A ® (marchio registrato), used alone could potentially cause some irritation or burning to the scalp, because it is a mild acid. When applied as a specially formulated cosmetic spray as Remox I it will not cause burning or irritation. Remox is easy to apply, non-irritating and makes for painless hair re-growth. Doctors have discovered that a combination of tretinoin (commonly known as Retin-A ® (marchio registrato) and a 5% solution of Minoxidil is more effective than Minoxidil alone. Results obtained from the Remox formula are far superior to competing topical remedies, because other applications are poorly absorbed by the scalp.
| | |
| --- | --- |
| | |
| | |
| | |
| | |
| | |
| | |
| | |
| | |
You have to consult doctor before the beginning of any treatment program

Topical minoxidil + finasteride (Promox)

Promotive Effect of Minoxidil Combined with All-trans Retinoic Acid (tretinoin) on Human Hair Growth in Vitro

A prospective randomized trial comparing finasteride to spironolactone in the treatment of hirsute women

Spironolactone directly inhibits proliferation of cultured human facial sebocytes and acts antagonistically to testosterone and 5 alpha-dihydrotestosterone in vitro
References
1 . Hamilton JB. Patterned loss of hair in man: Types and incidence. Ann NY Acad Sci 1951; 53:708-11.
2. Anjiki T, Suzuki S. An injection-corrosion study on the angioarchitecture of the rat skin. Jikken Dbutsu. 1991; 40(4):439-46.
3. Hunt N, McHale S. Reported experiences of persons with alopecia areata. J Loss Trauma 2005;10: 33-50.
4. Weitz R. Rapunzel's daughters: what women's hair tells us about women's lives. New York: Farrar, Straus, and Giroux, 2004.
5. Hunt N, McHale S. Understanding alopecia. London: Sheldon, 2004.
6. Passchier J, Donk JV, Dutree-Meulenenberg PO, Verhage F. Psychological Characteristics of Men With Alopecia Androgenetica and Effects of Treatment With Topical Minoxidil An Exploratory Study. International Journal of Dermatology.1988:27(6):441-446.
7. Girmana CJ, Rhodesa T, Lillyb FR, Guob SS, Siervogelb RM, Patrickc DL, Chumleab WC. Effects of Self-Perceived Hair Loss in a Community Sample of Men. Dermatology 1998;197:223-229
8. Sinclair R. Fortnightly review: Male pattern androgenetic alopecia. BMJ. 1998;317;865-869
9. Olsen EA,Weiner MS. Topical minoxidil in male pattern baldness: effects of discontinuation of treatment. J Am Acad Dermatol 1987;17:97­101.
10. Olsen E. Finasteride (1 mg) in the treatment of androgenetic alopecia in men . Aust J Dermatol 1997;38;A316.